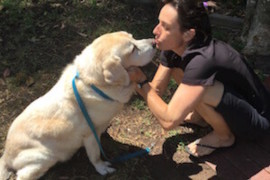 Managing the Geriatric Small Animal
from 1
€ 13.20
(incl. tax)
Description
Many of our canine companions survive well into old age, and the geriatric dog is becoming more common. Many physical, physiological, and cognitive changes occur in elderly dogs. The role of Physiotherapy in managing chronic pain is challenging, but its use can be extremely beneficial in managing many of the physical problems associated with ageing. Physiotherapy aims to restore function and movement and therefore assist with pain management whilst treating the patient as a whole system rather than a localised painful focus. Owner involvement is key to assessment and treatment. This approach must always be multimodal incorporating several specialists to bring the best benefits. Australian physiotherapists are highly skilled practitioners who use scientific evidence based research to manage and improve pain. They are the musculoskeletal experts, however they also treat neuropathic pain and neurological conditions. In this webinar we will discuss what occurs in the ageing process, and how Physiotherapists assess and treat small animals in the geriatric age group. Physiotherapists can empower owners to be able to care for their geriatric animal including managing risk factors in the home environment, to provide optimum management.
Recording from 10.07.2019
Brooke Williams
Physiotherapist specialised in Animal Physiotherapy, Masters Animal Studies (Physiotherapy) (BPhty, MAnimSt)
Brooke is a qualified Physiotherapist with post graduate qualifications (Masters in Animals Studies), and a Pilates instructor. She is amongst Australia's leading Physiotherapists specialised in Animal Physiotherapy and the Director of Holistic Animal Physiotherapy. Currently working at North Coast Veterinary Specialists (NCVS) on the Sunshine Coast, she also directs the Physiotherapy clinics at Queensland Veterinary Specialists and Animal Referral Hospital in Brisbane. In these settings she rehabilitates a wide variety of acute and chronic conditions and enjoys providing holistic management to each of her clients. Her rehabilitation includes a comprehensive treatment with her advanced Physiotherapy manual skills, acupuncture, underwater treadmill training, laser therapy, and advice and provision of a specific home program to meet the needs of each animal. Brooke is highly motivated member of her field. She has been involved in development and teaching on APA courses for Physiotherapists. the University of LIverpool Post Grad Diploma in Veterinary Physiotherapy, and is an approved internship practice for CRI (Canine Rehabilitation Institute). She has lectured at Veterinary and APA conferences throughout Australia, and has written a chapter on Acupuncture in the latest edition of Animal Physiotherapy: Assessment Treatment and Rehabilitation of Animals (Blackwell Publishing). Brooke always strives to provide the best quality of care for all animals, with a great deal of respect for their behaviour and condition, and aims to maximise their quality of life. She prefers to work closely with the owners of the animals to provide daily care and ongoing management, with plenty of advice and support and loves furthering the understanding of Rehabilitation amongst the Veterinary profession.
You might also be interested in